I just got back home from NYC and wanted to thank you guys so much for the support! Your comments, likes, DM's and LOVE meant the world to me. I had a million outfit questions so I'm breaking down my NYFW outfits and also adding additional info and sizing details. Before I start, I want to add a few beauty products that I absolutely could not have LIVED without on my trip:
beauty
other
A lot of you asked about my tan! I got a spray tan from Bronze & Glow before I left and I absolutely love them. B&G has been tanning me all summer and they're the best because they come to your house!! If you're not local, you can buy their products online. I use their tan extender a few days after they spray tan me and I also use it in between tans. I brought in on this trip to keep me tan all week.
A lot of you asked about my necklaces- they're all from Miranda Frye. You can use code Kathleen for 10% off + free shipping. My favorite charms are Hope, Paris, Peace, and Zion.
Lastly, lots of questions about lip color- I wore the same color every day. You can find it here. Shade is Salt Lyfe and it's a mauvy pink. If I want it lighter, I'll just use a little and put gloss over. If I want it darker, I use a few coats of it on my lips.
outfits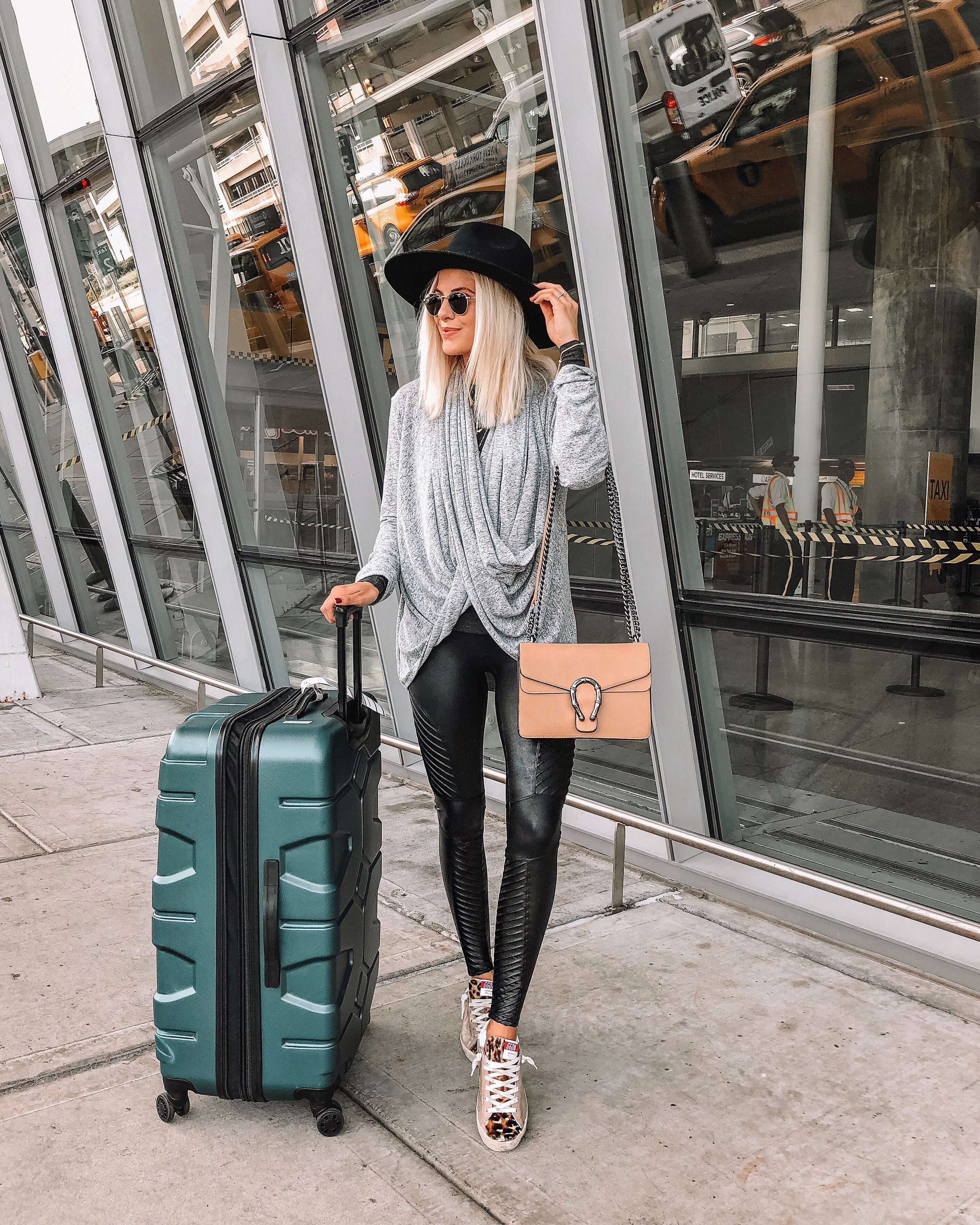 This wrap cardigan is an absolute must for traveling. It snaps in the back so you can wrap it around your neck like a scarf, or you can unsnap it and just wear it as a normal, flowy cardigan. These faux-leather pants are a gamechanger. Super comfortable and not stiff at all. True to size! Basically just black leggings, but cuter. Hat is Scottie Hat from GigiPip.
This outfit is from one of my new favorite brands and I was really happy with how it came together. The skirt runs a tad small, so I got a medium! Jacket is true to size. paired with a cute graphic tee!
This dress was a huge crowd fav for y'all. It's from Lesley Jane Boutique. I'm wearing a size small. True to size. Also, LOVING the sock bootie trend!
This dress was so fun and comfortable. It combines two huge trend for fall; animal print and a touch of western influence with the belt. Runs true to size! I'm wearing a size US 4.
This one was another HUGE favorite for you guys. The blazer is actually sold out so I linked similar styles. The skirt runs true to size and so do the shoes! Necklaces are from Miranda Frye (all my necklaces I wore this trip are).
OKAY wow I love this outfit. So this is actually a top + skirt combo which makes it even better because you can pair the skirt with a chunky sweater, or pair the top with jeans, or wear it together as a "dress". So many options. It's from 8 Fifteen in Indy and I was so happy that I stopped in to pick it up before NYC. If you're not local, 8 Fifteen will ship! Just call or DM them. It is on the pricier end, so if you wanted to recreate the look, I linked some similar styles below. And finally, THESE SHOES! Love them.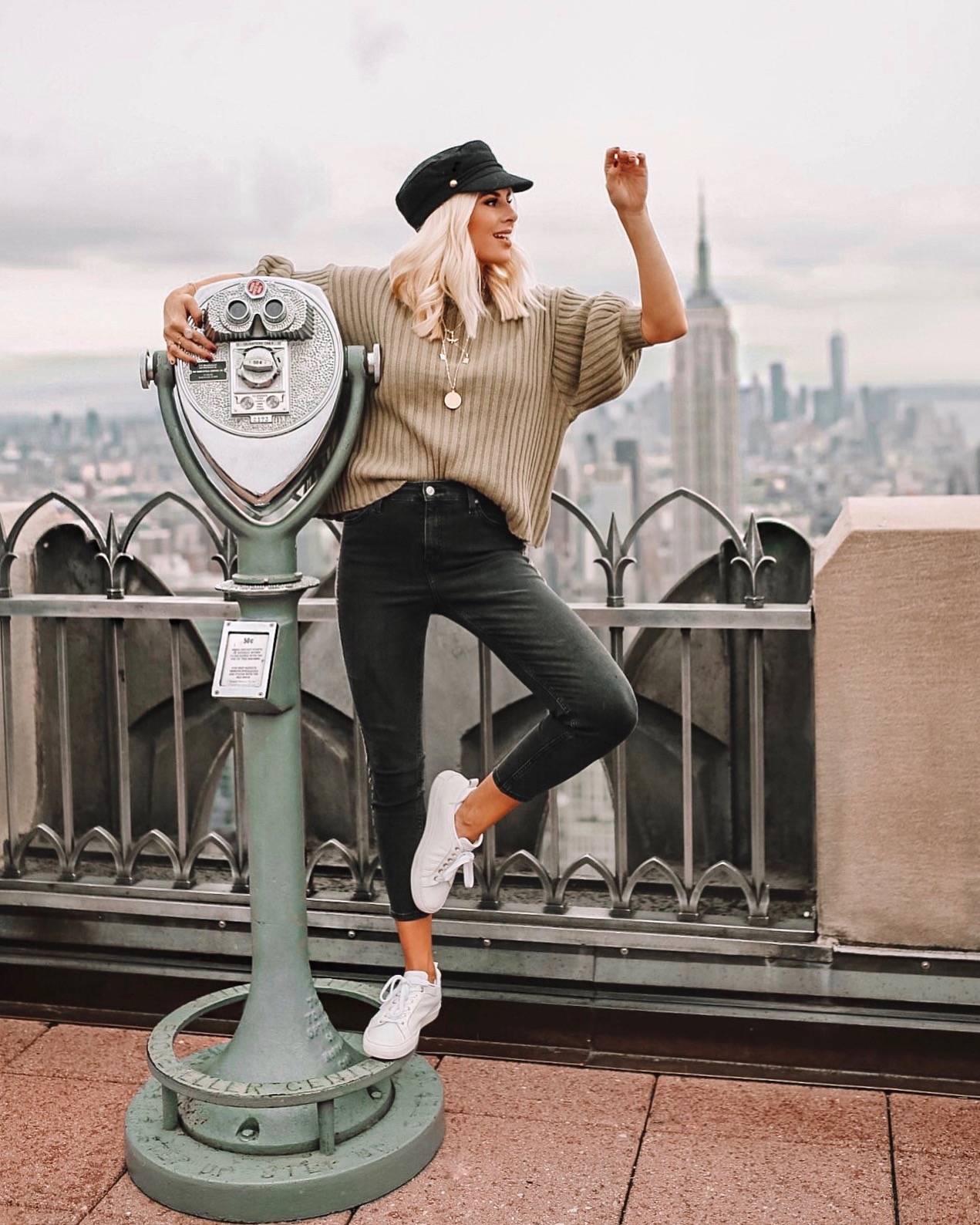 You can't really tell, but these black jeans have the BEST detail on the side. Click on the link below so you can see for yourself. Also, I love love love this sweater. My edits kind of washed it out, but it's a pretty green color. Perfect for fall. Wearing a size small in sweater. Jeans run SMALL. I'm wearing a 28 and I usually wear 26 (they don't come in size 27).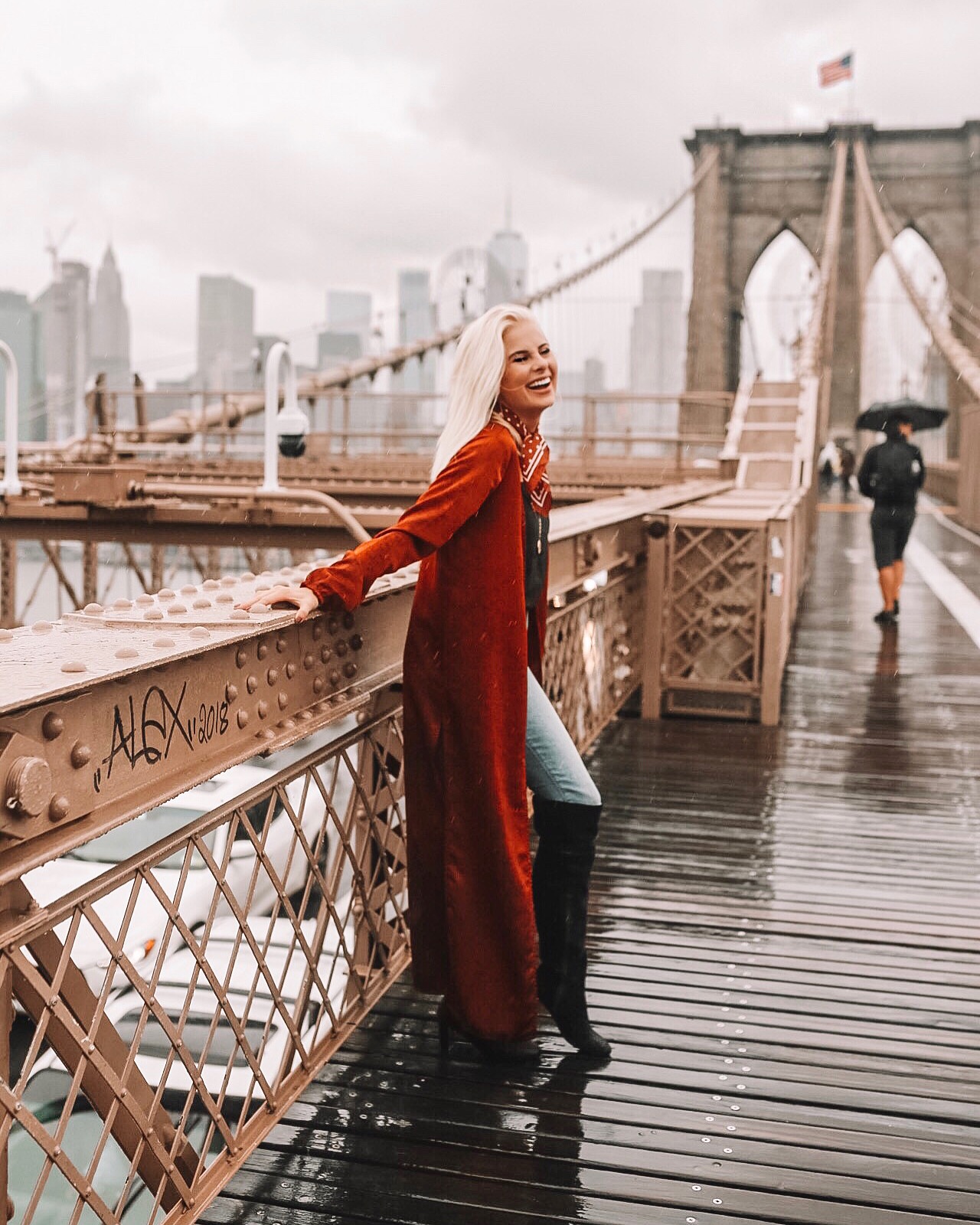 I love this rust satin duster but sadly, it is sold out :( I linked a few similar styles below and I also linked my fun little neck scarf! Jeans run true to size! My exact boots are sold out- linked similar.
This kimono dress is from Willow and Clay and it actually hasn't launched yet. Fear not, I will definitely post on my IG when it is available to shop. Hopefully soon!! I only packed one pair of blue denim for this trip, and this was the pair that made the cut! I feel like that says a lot about a pair of jeans if it's the one pair you choose- love them. True to size but maybe size up if you're in between sizes. Necklaces are Miranda Frye.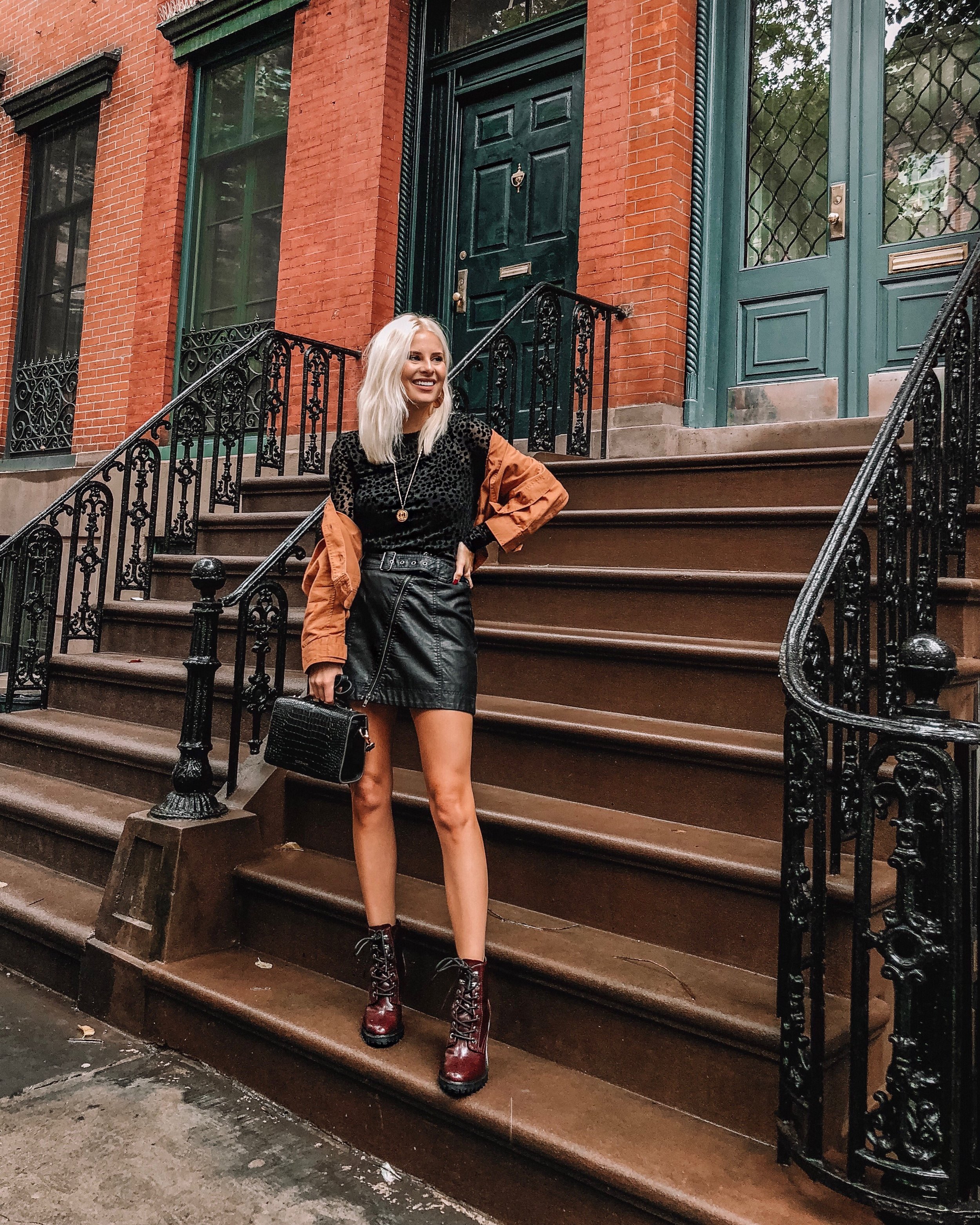 This outfit ended up being one of my favorites. These shoes make me feel WAY cooler than I am (highly recommend for rainy days as well). I also go this jacket at the Bollare Showroom and I loved the pop of orange against this black outfit. I linked this exact skirt below but it's sold out in a lot of sizes so I also linked it in a similar color and other similar skirt from the same brand (true to size). Lastly THIS TOP. It's sheer and has velvet spots on it…… SO CUTE! I put a plain black cami underneath. I sized up to a US 6.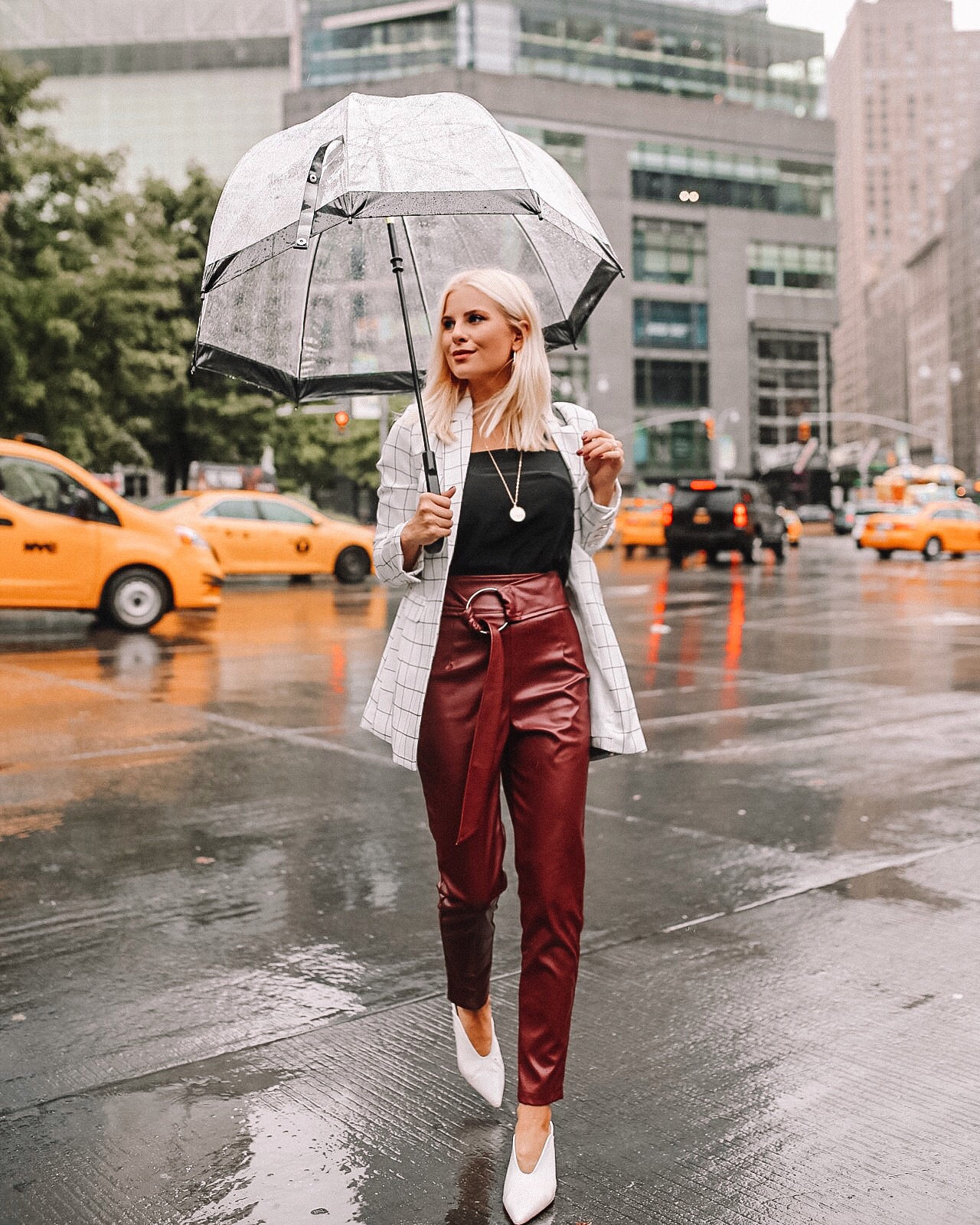 I loved adding pops of color and different textures to my outfits this trip. These pants were a little out of my comfort zone, so I paired them with a more simple top half. This blazer has gotten so many wears. Highly recommend. Pants are sadly sold out, but I linked similar styles if you want to recreate.